Just popping in to let you all know Scraptacular will be hosting an online crop this weekend July 17th-19th. That's starting tomorrow morning!!! Sign up at the forum
http://www.itsscraptacular.com/main/?page_id=204/
if you haven't already so you can get your hands on some cool prizes. The grand prize is a pack of goodies from My Mind's Eye and October Afternoon worht over $50! There will be plenty of challenges, games and make n takes. You won't want to miss it!
And we have another contest going on from now until Monday July 20th. Place this banner on your blog and you will be entered to win a great prize: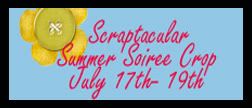 Hope to see you there! We had a great time at our last one and this one is going to be even better!